A Wild Game Recipe for Cold Winter Days – Wild Boar (Cinghiale) Blue Corn Posole Soup with Sausage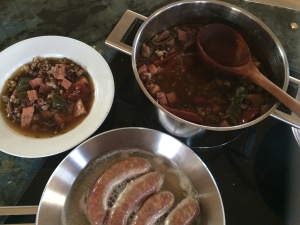 As dangerous as a wild boar can be in the wild, I dislike hunting for them in modern "hunts" which involve the use of dogs, GPS locators and motorized vehicles that keep the hunter far away and high above the tusks of the angry animal.  That was the way I experienced it at least in Florida.  I know they do it differently in Italy. The meat of the cinghiale, however, is really unique and this very spicy recipe is absolutely superb as a comfort for a winter day.  You can substitute ham or Italian sausages if you cannot find a source for the cinghiale.
Ingredients:
2 lbs of Cinghiale (wild boar);  If not available, substitute with pork steak, cured ham, or beef
6-8 Chile pods…(Guanjillo, Ancho, Poblano, Habanero)
3 cloves garlic, minced
1/2 teaspoon of Greek, Mexican or Italian Oregano
1 teaspoon salt
12 oz of Blue Corn Posole, (may substitute plain posole)
Directions/Process:
Cover Posole in water in a non-reactive bowl and soak overnight or for at least 12 hours
Pour out water, add 4 to 6 cups of salted water.
Boil posole for 2 hours then add other ingredients. Cook until posole is tender (approximately 2-3 hours) stirring occasionally.  The "heat" will vary depending on the variety and quantity of peppers used.