Defense Attorneys and "Diary of a Moonlighter"
I just returned from New Orleans where I had the opportunity to present two topics to 160 of the attorneys whose 140 firms represent TEAMHealth in various venues throughout the country.  We are fortunate that in our management of over 12 million annual patient care encounters in our Emergency Departments, Hospital In-Patient care, Anesthesiology and surgical procedures, we have to defend ourselves from claims less than 350 times each year.  We pay indemnity costs in less than 40 suits and this past year we won 14 of 15 cases that we took to court.  Extraordinary success and we are told by actuarial brokerage that ours is by far the best ongoing record in the country,  Much of that, of course, is due to the care with which we select good, compassionate, competent physicians, PAs and Nurse practitioners, but equally beneficial is the great competent work done by our attorney colleagues and our own legal risk management department that goes to great lengths to support our care providers during the travails of defending a malpractice accusation.
After my first presentation, Mark Wilford, the exceptionally competent VP of Claims Management with whom I have had the privilege of working since 1999 used part of his time to give tribute to the work my office has done over the years.  He then surprised me by showing clips from Diary of  a Moonlighter, a documentary I produced as my MFA thesis in the mid '70s depicting my experiences in the ER as an emergency physician.  It was the very first of its kind.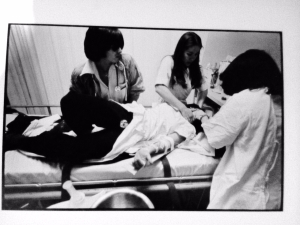 Diary, which is constructed in four sections around my own personal experiences in a busy urban EmergencyDepartment, played on PBS for three years and is credited with inspiring a host of ER television shows, documentaries as well as reality TV shows (we didn't hold back any graphic material).  Section 1,  titled "24 Hour Shift" shows the variety of patient encounters during a full twenty four hour shift (common during those years) , Section 2, titled  "Lacerations", depicts the ritual and drama of ER surgical repair.  Section 3, titled "Code Blue – Full Arrest" shows the attempted, unsuccessful resuscitation of an ICU patient;  Section 4, which is titled "Full Moon – Overdoses" depicts our management of three overdose patients who arrived at the same time in the ER.  I had intended to produce additional sections over the years and have started taping a pilot for a History Channel series.  But events and obligations at that time dictated other priorities, just as they do now, including completing the first sequel to "Widow Walk."
Much has changed during the evolution of the wondrous specialty of Emergency Medicine over the past 40 years since our pioneer film was created.  We know how to manage patients more quickly, more adroitly and accurately … with greater certainty that our interventions will be beneficial.  But the fundamental rawness of it all remains the same.  And many of us still resort to a form of gallows humor that gives some relief to the daunting, sometimes depressing challenges confronting the caregivers… the gravity of so many dramatic and often tragic encounters.
I will find a copy of "Diary of a Moonlighter" and post it in sections on Vimeo and/or YouTube.