Another Wild Game Recipe for Cold Winter Days – "Elk Sugo for Pasta or Bread"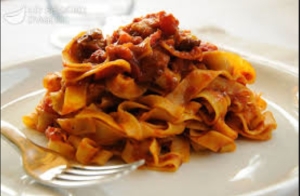 Elk roast is lean and sweet and imparts a much different texture and flavor than beef.  That's why I hunt for it.
Ingredients:
3-5  lbs Elk Loin Roast – you can substitute with lean beef, caribou or buffalo
4-6 Italian hot or fennel sausage, or bratwurst
1 half sweet onion, minced
20 slices of dried Porcini or Shiitake mushrooms
3 carrots, in coins
3 stalks celery, chopped
4 cloves garlic minced
1/4 cup olive oil
2 cups chicken or beef broth
Salt, Pepper, Hot Curry Powder, sage leaves, oregano, red-pepper flakes
1 cup of dry or bold red wine
4 Fresh Tomatoes, minced
2 28-oz cans of chopped tomatoes
Fresh pasta, linguine, penne, rigatoni or angel hair – preferably freshly made with semolina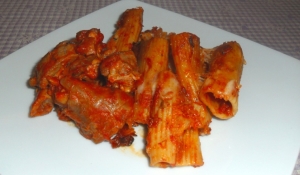 Process:
Sear the salted roast in olive oil then place in a slow cooker or crock pot.
Cook the onion, celery in olive oil until clear, add carrots and garlic. To the pot, add sausages, broth, wine, salt, pepper to taste. Set cooker to 12 hours at low heat. Meat should be fall-off-the-bone tender when done.
Four to six hours before completing the slow cook, add tomatoes, curry, pepper flakes, and oregano.
The sauce should be thick, and the meat should fall apart. The sausages should be impregnated with the sauce. This works best with rigatoni or penne pasta because the sauce fills the cavities.