Last evening I had the opportunity to see (again) and hear Madame Butterfly, the Puccini 1904 grand opera set in 19th century Nagasaki, Japan. This version was produced by the excellent local company Lyric Opera Northwest whose mission is to provide classical operatic venues in which local talented young singers can perform with seasoned international stars. The production was wonderful, and the voices and orchestra performed beautifully.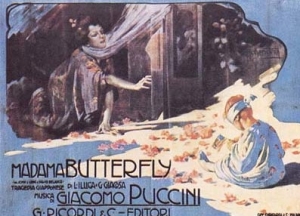 The famous story depicts the despicable, duplicitous  acts of an American naval officer, Pinkerton, who exploits the love of a naive fifteen-year-old maiden, Ciocio San ("Butterfly" in Japanese). In the first act Pinkerton boasts with amusement to the American counsel that the customs and lax laws of Japan conveniently allow a man to contract and marry a woman "for 999 years, but divorce her in less than a month" with complete impunity. Ciocio San seeks security but more importantly to her, needs his love. He needs liaison and, without defining his use of the word "love," achieves his purpose. He sails away afterwards without knowing his "wife" is pregnant with his child. She waits, lamenting in hope for three years for him to return.
When Pinkerton finally does come back, he is with his "true American" bride and, true coward that he is, uses an intermediary to inform Ciocio San that he does not wish to see her, but will agree to take her child back to America. In grief, Butterfly agrees, then kills herself in the presence of her blindfolded child who sits in the foreground waving a small American flag. As melodramatic as all of that is, it moves me, and I learn more every time I see it.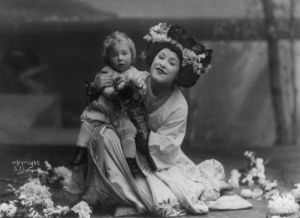 Perhaps more so this time, for I was privileged to attend one of the rehearsals and witness the superb motivational acting and vocal guidance to the singers by the Lyric Opera Northwest's director, Pamela Casella, who apparently had debuted as Butterfly during her distinguished singing career. I observed Casella help the singers understand the horrible plight of the naive victims and profound cruelty of the antagonist, Pinkerton. Butterfly presents overt and subtle messages about a jingoistic, chauvinistic expansionist American empire in a grand opera written over one hundred years ago.
In this month celebrating women, I wonder how far have we come since then? A long way, I believe. But the messages found in classical pieces should not be forgotten, and thank goodness for companies like Lyric Opera Northwest, Seattle Opera and the Met that are still willing to produce them.
---
Read the first chapters of my award-winning novel, Widow Walk, for free right now. Plus, join the Land Rush to enter a drawing for a chance to win one of these fabulous prizes: a three-day writing retreat at the gorgeous Whidbey Island Writer's Refuge, a $100 Amazon gift card, a book club party pack with wine and chocolate, and more!