Recipe: Italian Country Bread with Cannellini, Escarole and Olive Oil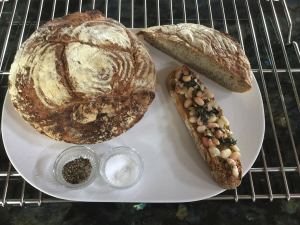 Over the past few months it has been my treat to bring together in cooking classes a variety of friends, college, medical school and high school classmates, fellow writers, physicians and long-lost cousins. We remodeled an already beautiful home on Capitol Hill in Seattle by ripping out a small kitchen and creating a huge, modern entertainment cucina with an in-door pizza oven, ample granite counters and a variety of appliances so that we could do this form of entertaining. Great discussions over great food, in which everyone is participating in the process.
Most recently I have learned to make great bread with a technique borrowed from Tagine Bakery…using a wonderful leaven patiently nurtured and cast-iron pots in a steamed oven. Once the leaven is ready, you can keep it going indefinitely and use it for a variety of other breads as well as grissini bread sticks, crostini and pizza. The toast is phenomenal. It retains its flavors for a long time. If you need to have a softer bread (because you have no teeth) then I would suggest you add some olive oil to the dough before the rising and proofing.
The Escarole recipe, which my daughter Francesca taught me, can also be used with other greens, including kale, Chard, Brussels sprouts or Bok Choi.
The Cannellini are simple to prepare. You can substitute or add fresh chopped tomatoes as well as parsley.
Here is the recipe and technique for the bread:
 COUNTRY BREAD RECIPE
(Makes 2 loaves. OK to halve the recipe for 1 loaf)
Ingredients:
Whole-wheat flour
White all-purpose flour
BUILDING STARTER CULTURE (BIGA):
Make combined starter flour mix. Combine 50% whole-wheat flour and 50% white all-purpose flour.
Add to the original starter: one ½ cup water and ½ cup combined starter flour mix.
Let sit over night.
Pour out 80% of the mix.
Repeat steps 1-4 until ½ tsp. of starter floats in water. Then, it is done.
MAKE STARTER SOLUTION:
In a mixing bowl, combine 700 grams of tepid water (80 degrees) and 200 grams of starter.
MAKE BREAD DOUGH:
Mix: 900 grams of all-purpose flour and 100 grams of whole-wheat flour, and add to the Starter Solution.
Let sit for 30 minutes
Add to mixture: 50 grams of water and 20 grams of salt.
Place mixture into a 2 gallon, clear bin.
Hand turn (one turn per corner) every 30 minutes for three hours.
Volume should increase 20%
PROOF:
Cut dough into two rounds
Let the rounds of dough rise for 3 hours
 BAKE:
Heat Dutch oven with lid to 500 degrees.
Place one dough mixture into the hot Dutch-oven pot, while keeping its lid in the oven to stay hot.
Place pot in the oven and cover with the hot lid. Splash a little water into the oven bottom. Quickly close oven door and bake for 20 minutes
Remove lid and bake another 20 minutes, until it looks right. When you pull the bread out of the dutch oven, its bottom should "thump."
Cool on a rack. Serve hot with olive oil and a bit of sea salt, or with butter.
Serve cool with a Gorgonzola or other salty bleu cheese, or with cannellini, prepared greens, chopped tomatoes, or Capri salad.
Francesca's Escarole/ Chard/Kale/Brussels Sprouts RECIPE

Ingredients:
Sweet yellow onion – 1 whole   (e.g., Walla Walla) chopped well
Olive oil – ¼ cup
Greens – 2 bunches of:   Escarole, Kale, Swiss Chard, or Brussels Sprouts)
Pancetta or thin bacon – six strips, chopped:
Chicken broth – ½ cup
Cook:
Saute the chopped onion in olive oil until clarified, soft and NOT crunchy
Add Pancetta or bacon and cook until crisp (do not burn)
Add chopped greens, Cover until reduced
Add ½ cup of chicken broth
Stir frequently
Serve as separate dish or mix with cannellini
Cannellini Beans
Ingredients:
One pound of dried white beans: (Cannellini or Great Northern)
Salt
Preparation:
Soak beans overnight
Rinse
Add salt, bring to boil, then simmer, stirring & sampling frequently
Beans are ready when they are "al-dente" i.e., they are still a bit crisp. Do NOT over cook. They will turn to mush if you pass the al dente point.
Add olive oil and sea salt when ready to prepare.