July 4th
One Hundred and Fifty years ago today, Robert E. Lee, in an ill conceived battle plan, sent Major General George E. Pickett to lead a frontal attack – to march his troops up over one mile of gradually sloping prairie against a well entrenched Union force on Cemetery Ridge of the little Pennsylvania town of Gettysburg.  The Confederates heavily bombarded the Union position before the attack, but most of the cannonade overshot the ridge and Pickett's men marched into a killing field of fire.  The pincer flanking attacks of Longstreet and Stuart were rebuffed.  Lee's frontal attack failed.  Thousands were killed or wounded.  It was the last of Lee's offensive campaigns and is celebrated and lamented as the definitive turning point of the War Between the States.  By the time the scruffy, poorly-fed and beaten rebel army retreated from Pennsylvania, orderly but dejected, Pickett and Longstreet must have known that the war was lost and they would spend the balance of that war defending what was left.
In researching who Pickett was –  seeing his battlements set up against the British on San Juan Island, viewing his modest  home in Bellingham, and then walking the sacred ground of Gettysburg – I came to the conclusion that he was both a romantic and a pragmatist, beset with a lifelong melancholia that can only come when the hard-pan realities of life force those two characteristics to harshly mix.  In him, in the soul I see in his eyes from his early portrait, I see a proud ferocity similar to that which invests every romantic's heart.  He was, like many other Western pioneer and Civil War heroes, a dashing, flamboyant  character – a cut right from the tales of Aurthur.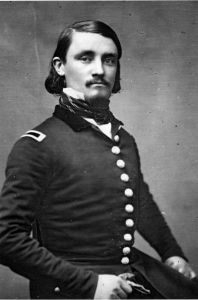 And with the pain of repeated losses – you can see it in the portraits after the war – the fire has been extinguished and he survived by, and likely endured with the mixed fame he achieved in so many different tests of his metal over his career.    Not long after Gettysburg, Pickett married a young woman, Ms. Sally Corbell, who later became his greatest press agent and posthumous biographer.  His mortal survival likely was carried in the encumbrance of that adulation.  And then I imagine he just conceded and passed on.  In her many books and travels, long after he died, she continued his legend on the vapors and ashes of what she saw and believed about him.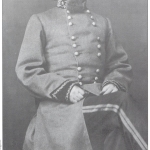 The "Pickett George" of our Widow Walk is someone who is in the second, far from final phase of his life.   He has been toasted and has tasted fame and loves the thrill of the fight.  But he is between hopes for an eternal life that comes, somewhat, with notariety and is enduring the drudgery of an environment that daunts all of that.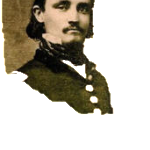 What he sees in Emmy is a pathway to one form of peace…one perhaps, for which he is not yet ready.
Widow Walk after all, is a love story, unrequited.