Christmas Crabs, Angel Hair, and the Way the Cookie Crumbles
This restrained 2020 holiday season, I have decided to speak of two traditions from my own family: Pasta with crab and Italian cookies. Although I am confident this pandemic will be over soon, with the passing of several loved ones this past year, I felt it important to memorialize this, in case things fall apart the way so many businesses have.
ABBONDANZA
Over one hundred years ago, a group of newly-arrived immigrants to the Pacific Northwest continued their "Old Country's" tradition of the Italian Christmas Eve Festa and "Feast of the Seven Fishes." (This is a good article from Bon Appetit: Feast of the Seven Fishes).
For me, as a little boy, and I know for my sister and cousins, those family feasts were magnificent inventions. We enjoyed the many benefits as well as the drama that comes from being part of a very big, extended Italian family. The clan of the nine Polet brothers and sisters eventually evolved into an organization with five family surnames that survive to this day: Chiechi, DeCaro, LaSalle, Orrico and Polet. Every Christmas season these respective mini-dynasties have gathered together to celebrate, catch-up and reminisce at Mount Virgin, the little immigrant church where so many of us were baptized, married or buried.
I remember the days when the women (and a few men who liked to be called "chefs") cooked for at least a week beforehand preparing the assortment of old-country recipes that would be presented the end of the four week Advent fast on Christmas Eve. The feast was an abbondanza – the Italian version of the Pacific Northwest's potlatch (albeit, without the trading of slaves) – always a multi-course wonderment of antipasti, pasta, sausage, game meats, marinated dishes, seafood, fried vegetables, salads and desserts. In those days, when the extended family numbered no more that 50 or 60 people, each family provided a main course in sufficient quantity that it could be shared. My family usually prepared the Dungeness Crab dish, usually served with Angel Hair pasta.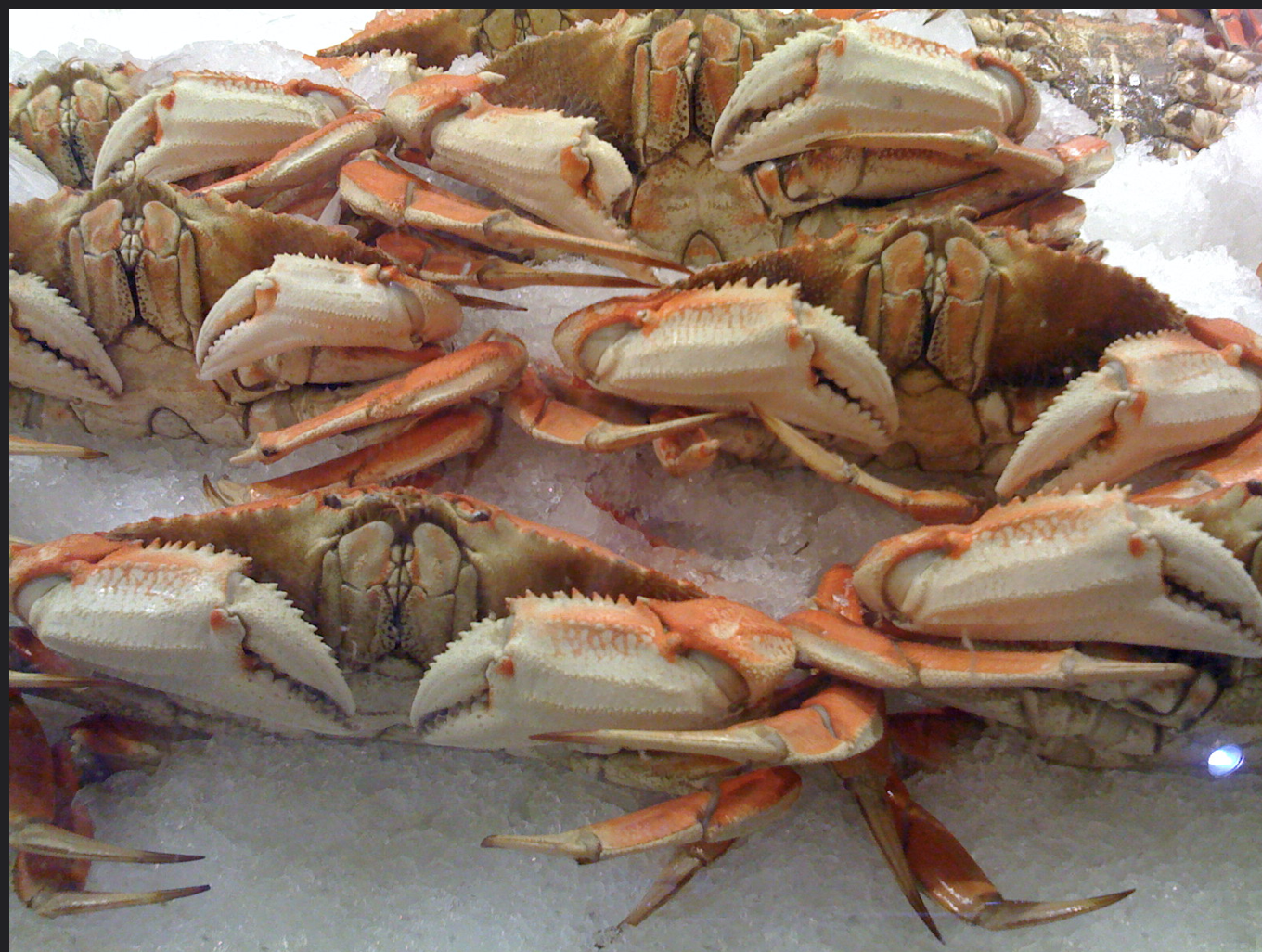 The pasta's marinara sauce had a secret ingredient, one which my grandfather passed on to my father, as will I to my daughters and grandchildren. But the dish is also splendid without it.
The Parade of Cookies – a Dedicated Labor of Love
Before Christmas Eve, my grandparents' four-story red brick house (a.k.a. "The Big House") on 23rd Street in what used to be called "Garlic Gulch" hosted many parties during the holidays. A parade of cookies, the result of what I perceive as an undeclared competition between the women whose families were proud of their cooking, started a few days before Christmas and continued on though the New Year celebrations.
On Christmas Eve each family presented its offering to the altar of comparisons. The panoply of treats varied somewhat from year to year, but some cookies were consistently present – stacks of my Mom's crisp pizzelles and almond horns-of-plenty; Grand-Aunt Teresa's boxes of biscotti dipped in chocolate and loaded with almonds; baskets filled with Mary Chiechi's laced pralines; dozens of Grand-Aunt Kena's honey-soaked biscuits; Auntie Lorraine's fig and prune mini-tarts; Auntie Evelyn's bow-tie shaped Crostoli dipped in melted sugar; and Grand Aunt Josie's fried Zeppole drenched in powdered sugar…and the infamous Rum Balls, from which my Grand-Aunt Rose kept us away, lest we children inebriate ourselves and thereby precipitate a course of irreversible decline and alcohol addiction.
A Tragic Event
Perhaps to others, this was much less of a competition than a way of celebrating and demonstrating commitment to the family. But to my Mom, being considered a great cook in the presence of other great cooks was extremely important. I remember my mother spending hours over a hot stove preparing the delicate pizzelles. There were no electric pizzelle irons back then, so she had to bake each cookie individually in a heated press held over the stove. That process took 3 to 5 minutes per cookie. I remember one year she stayed up most of the night baking hundreds of pizzelles. Because of all the time it took to make them, my mother protected the crisp cookies by placing stacks of them into large tin drums. She then hid the drums in her closet and took them out only when the cookies were to be transferred to smaller boxes for transport to friends and family.
When I was 7 years old, I perpetrated a long-talked-about, later-to-be-forgiven sin when I somehow tripped my 4 year old sister, Pam who my Mom had assigned to carry the big tin of pizzelles from the closet. Pam hit my foot (accidentally in the way, of course) and stumbled, sending the tin drum flying. I can still hear my mom shrieking, the tin drum clunking down the steps, and the sounds of the delicate, lacy pizzelles inside the drum being rendered into unpresentable tiny shards. Quite an opera scene. Pam says she doesn't remember that episode, thank goodness. But, despite confession, I still carry the guilt, as is my due.
Tradition
Although we no longer gather the extended Polet family on Christmas Eve, the Polet Family Association continues the annual tradition with a party in December, invariably attended by well over 100-150 people of all ages. This year, unfortunately, we must interrupt that tradition.
I accept that I am now one of the elders in that gathering. The extremely interesting 23 and Me genetics program has introduced me to relatives all over the world, almost all of whom I will never meet in person. Here in Seattle at these annual events however, I have the pleasure of meeting sixth and seventh cousins! I personally know fewer and fewer of the attendees, but it doesn't matter, because we are all celebrating a tradition. My job, as an elder, is to convey to them why it is so important.
Each year at that event I examine the large Christmas tree decorated with small pictures of all of our now deceased loved ones. As I do that, I am more and more aware that life passes very quickly indeed. Watching all of the beautiful little children sitting with Santa, as I did once upon a time, makes me grateful for traditions like this, for such rituals tie our lives together in a very special way, by providing continuity to all our lives. The observance of family traditions keep families alive.
Things Change
Our large extended family inevitably has diversified into a less and less connected community of relatives over the years. It has incorporated other cultures into itself, Many of our family's traditions have been replaced by those of others. In many cases, the symbolic observances have been forgotten altogether. For example, at the Polet annual dinner, the fare is less and less about Italian food. I realized that the food was simply an expendable accoutrement to the real purpose of the traditional gathering which is more about catching up with relatives, refreshing our understanding of how the complex family tree looks, retelling hilarious stories and reawakening cherished memories.
And sometimes we are lucky enough to hear stories we haven't been told before. For example, last year, before she passed away, my dear cousin Celine (CeCe) Patricelli-Cimino, God rest her soul, told us the story about how, in the summer of '52, she watched our hilariously, notoriously wicked cousin, Frankie DeCaro, tease Grand- Aunt Rose to stop nagging him about his improprieties. Rose, who I recall, was a very tidy person, had just chastised Frankie for going shirtless on a very hot summer day. "You are scandalizing the girls with your display of all that disgusting chest hair" she had complained. As she went on about it, Frankie casually pulled out a lighter and set his chest hair on fire. "There! Happy now?" he said, as all the girls in the family squealed in laughter. I imagine Aunt Rose didn't bother him again after that. CeCe's story brought Frankie to life again for me, as well as those at the party who remember him.
On this Christmas Eve, in the confines of an intimate gathering, we will honor the LaSalle family tradition with Pizzelles and Crab with Angel Hair pasta (and, perhaps a few other fish recipes).
For you, my own extended community of friends, I pass on these two recipes and hope you will find them as wonderful as I do. Perhaps they can become part of your family traditions as well.
RECIPE:

Dungeness Crab and Angel Hair Pasta
Prepare your favorite meatless marinara sauce.
Clean Dungeness crabs (1 crab for every 2 persons). Break off legs and quarter the caprice. Crack shells with a mallet before placing in marinara sauce. Saute crab in sauce for at least 30 to 60 minutes. Separate crab from sauce.
Cook Angel Hair pasta until al dente. Drain well. Add sauce.
Serve Crab separately. Provide plenty of napkins. Crab-crackers & forks.
An excellent, simple Variation: Dungeness crab pasta w butter, garlic and olive oil.
NB: Essential: Pizzelle iron, Anise oil.