Italian Translation of Widow Walk Now Available!
Guest post by Avasta team.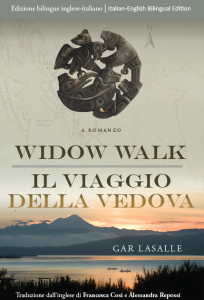 [dropcap color="" boxed="no" boxed_radius="8px" class="" id=""]W[/dropcap]idow Walk is now available with side-by-side Italian translation. You may read the English on one side, and read the Italian version on the other. It is perfect for language learners!
Italian description: A metà dell'Ottocento il Nordovest Pacifico, un vasto territorio fatto di foreste impenetrabili e fiumi selvaggi, è punteggiato da piccoli insediamenti di coloni. Isaac Evers, guida della comunità ed ex combattente, ha fondato una piccola colonia a Whidbey Island. Altrove, l'indiano Anah-nawitka, della tribù degli Haida, prova il brivido del suo primo omicidio e sente scorrere nelle vene un desiderio di vendetta, che sazia tagliando la testa ai bianchi invasori. Esaltato dalla stima degli indiani del suo clan, Anah imbocca un sentiero di violenza che cambierà la vita di molte persone. Gar LaSalle intreccia queste trame dando vita a un romanzo vigoroso che narra un'indimenticabile avventura americana.
Wondering what the side-by-side Italian translation might look like? Here's a sample chapter!
[button link="https://www.garlasalle.com/wp-content/uploads/2015/08/LaSalle-WW-English-Italian-sample.pdf" color="green" size="" type="" shape="" target="_blank" title="" gradient_colors="|" gradient_hover_colors="|" accent_color="" accent_hover_color="" bevel_color="" border_width="1px" shadow="" icon="fa-book" icon_divider="yes" icon_position="left" modal="" animation_type="0″ animation_direction="down" animation_speed="0.1″ class="" id=""]Read the first chapter for free[/button]