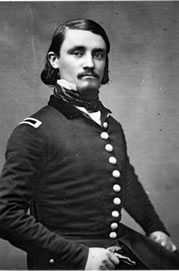 GEORGE ELLIOT PICKETT
Captain Captain George Edward Pickett, a West Point graduate and Mexican War hero, was stationed in Bellingham from 1855 to 1860. Ordered by Brigadier General William S. Harney to San Juan Island to pre-empt a British claim to that strategically important territory, Pickett made a show of it and subsequently was described by local journalists as a "fighting gamecock." His comments to the press purportedly were: "Let 'em come. We'll make another bloody Bunker Hill of it." His stubborn, well-publicized standoff intensified the confrontation, and for a short while, there was wild speculation in the region that another war with the British was imminent. General Winfield Scott was dispatched by President James Buchanan to San Juan Island to de-escalate what was being called "The Pig War," because the shooting of a Hudson's Bay official's pet pig by an American settler was the provocation used by Governor James Douglas to ostensibly "protect the rights of British citizens" on San Juan. The dispute was finally settled in mediation by Kaiser Wilhelm in 1872.
At the outbreak of the US Civil War, Captain George Pickett resigned his commission in the US Army and returned to his native Virginia to join the Confederate Army where he quickly achieved promotions, fame, and notoriety. Major General George Pickett was described posthumously by one of his Union Army adversaries, General George McClellan, as "the best fighting infantry commander on either side" of the War Between the States.
JAMES DOUGLAS
James Douglas wore two hats in the 1850s—Governor of the British crown colony of Vancouver island and chief factor of the Hudson's Bay Company's fort Victoria. he consistently denied that the raiders entering the united states waters were "British" Indians, but he helped the Americans when he could.
Blockhouses sprang up throughout the territory in the 1850s, prompted by the Indian war of 1855 and the northern Indian raids. several were build on Whidbey Island in the wake of the Ebey massacre.
Blockhouses still stand, preserved on Whidbey and San Juan Islands, attesting to the very real threat of pillage, rape, and murder by marauding "Northerners," a term used for miscellaneous clans from indigenous regional native tribes. Although no one single group is likely responsible for the legendary headhunting and slaving, clans from the southern tip of Alaska, western British Columbia, and the Queen Charlotte Islands (now called Haida Gwai) were blamed for most of the late eighteenth and early nineteenth century predation against white settlers and coastal native villages. Many tribes along the coast have stories of conflict with them. Northerner slaving raids continued until steam-powered vessels replaced much of the naval ships patrolling the region.