Isaac Ebey's family tried to recover Isaac's head for several years after the 1857 murder. They offered a substantial reward. There were many rumors about where it had been taken, and who had perpetrated the event. Newspaper accounts said that it was Haida or Tlingit.
There are also newspaper accounts claiming that authorities caught the marauders and hung them. Likely, white colonists just grabbed some poor natives and hung them as a means of getting natives out of the way from the land grabbing that was so prevalent during that time.
Three or four years later, a sea captain who was traveling down from from Alaska interacted with a group of Kake Indians who live on the southwest tip of Alaska, near Valdez. There's no written accounts from the Kake that describe any of this, and few remain in the tribe today, so they really can't defend their ancestors about this, but the sea captain said that he, in claiming the reward from the Ebeys, had negotiated with Kake Indians for the scalp and facial mask — a partial facial mask of what he believed was probably the remains of Isaac Ebey's head.
I'm not convinced that what he brought was really Isaac's scalp and face mask. Other than his account, we don't have any corroboration, although Ebey's brother Winfield, said the hair on the scalp looked like that of his brother, Isaac's.
Where is it now? One account says that it was subsequently buried with Isaac's headless body in the Sunnyside cemetery that overlooks the Ebey plateau. Another account says the grizzly scalp and mask was never put into the grave, but that it was passed from one relative to another, and sometime in the mid 20th century, the last time it was located, it was seen in a distant cousin's bureau drawer in San Francisco.
I've wondered whether it is with the spirit that is reportedly seen occasionally when one sits at night in the cemetery overlooking the Ebey Plateau. Or perhaps with the spirit presence that has been witnessed wandering near the old house on some sliver-moon nights. Maybe one of those spirits is that of Emmy searching for Isaac, or Isaac searching for his head.
---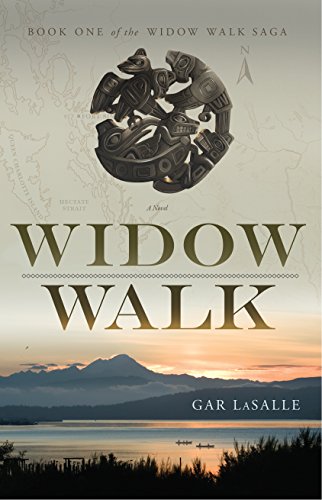 It is 1857 in the American Pacific Northwest where less than 3500 non-natives have begun settlements. Tensions betwen local indigenous tribes and pioneer settlers are growing. The U.S. territorial governor has called for a "war of extermination" against natives. Complicating it all, the local British and U.S. Armies begin preparing for war in a boundary dispute. Haida native Anah-nawitka, widely known by native foes and white settlers as "The Black Wind," addicted to the rush of his kills and the satisfaction of delivering vengeance to the encroaching white colonists, embarks on yet another predatory raid to the south. Boston-bred Emmy Evers carves out a life for herself and her family amidst her island home's wild streams and woods while her husband Isaac, a prominent local leader, is frequently away. This is a frontier where a tenuous peace will soon give way, and test the will and endurance of one exceptional woman.
To start reading the Widow Walk Saga books, click here